SaaS Alerts Is the Best Alternative to Augmentt Technology
Switch from Augmentt to SaaS Alerts for unified and automated SaaS security
SaaS Alerts is purpose-built for MSPs to protect and monetize SaaS applications. With our platform's automated detection and remediation capabilities, MSPs can stay vigilant about threats and stop unauthorized activity without the need for human intervention.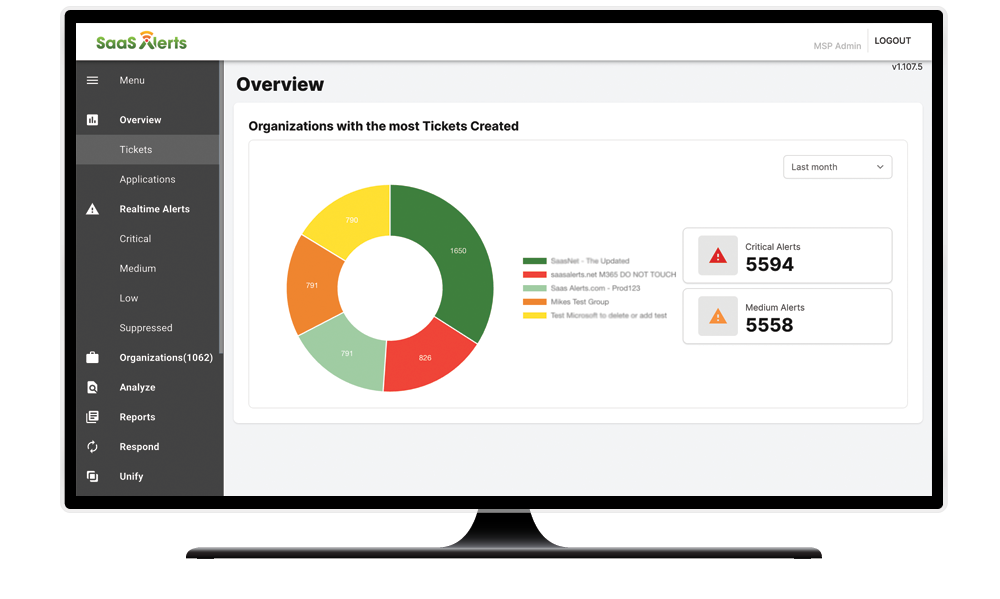 Why SaaS Alerts Wins Over Augmentt Software — Every Time
Key Differences Between SaaS Alerts and Augmentt
In addition to protecting SaaS environments, SaaS Alerts helps MSPs to increase monthly recurring revenue. In fact, MSPs using our SaaS security management platform are increasing MRR by $2 to $6 per user per month.
Continuous monitoring and alerting
Tracking user activity from outside approved location
Analyzing user behavior to detect insider threats
Tracking data breach attempts such as brute force attacks, along with additional file activity monitoring
Monitoring of documentation and RMM tools
SaaS discovery (i.e., shadow IT detection)
Monitoring RMM connected devices to user behavior
Automatic remediation of security events
Fully automated remediation of compromised accounts (or accounts that show evidence of compromise)
Easy elimination of unnecessary guest user accounts
Automatically retire a session and disable login when a successful login happens outside of an approved location
Automatically remediate critical issues including impossible travel, data egress and events outside of approved location
Automated remediation of IAM and DLP events
Integrates with professional services automation (PSA) tools
Integrates with Microsoft 365
Integrates with Google Workspace
Integrates with Salesforce
Scheduled reports to provide clients with constant visibility
Free reports to assist with prospecting clients
Employee activity reporting, including downloading, deleting and sharing files
How SaaS Alerts Can Augmentt Your Security Stance
When it comes to guarding the gates of SaaS applications, Augmentt Technology's Discover, Secure and Engage modules serve as security configuration tools to ensure a base level of cybersecurity. But SaaS Alerts goes beyond basic configuration, to proactively alert and defend against malicious actors.S
Customize the thresholds for SaaS security events and get instant alerts of unusual user behavior to immediately mitigate threats.
Assess current state and potential risks and vulnerabilities to better demonstrate value to customers and prospects.
Use predefined rules to respond to incidents and threats without the need for human intervention.
Deploy Microsoft security recommendations across all tenants to boost security scores and overall security posture.
Find Out Why Security Teams Prefer SaaS Alerts over Augmentt
With SaaS Alerts, MSPs can scale security for their clients by gathering actionable insights. Our multi-tenant, unified and continuous SaaS monitoring platform protects against data theft, data at risk and actions taken by malicious parties.
Here's what SaaS Alerts customers have to say: 
"The rise in ransomware, especially through social engineering on SaaS platforms, makes SaaS Alerts a mission-critical tool for our managed services business. Threat surfaces are being spread too thin to leave to chance. No matter how big or small, important or insignificant, you never know who is accessing your information." 
– Frank Barrett, ArcLight Solutions
Want to Augmentt Your Security?
Migrate to SaaS Alerts