SaaS Security Platform Recognized for Exceptional Innovation and Channel Deployment
WILMINGTON, N.C., May 23, 2023 — SaaS Alerts, the cybersecurity company purpose-built for MSPs to protect and monetize their customers' business SaaS applications, today announced that TMC, a global, integrated media company helping clients build communities in print, in person and online, has named the SaaS security platform as a 2023 MSP Today Product of the Year Award winner.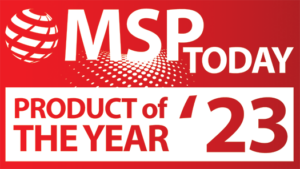 Unlike other solutions primarily focusing on network security, SaaS Alerts focuses on the user, SaaS applications, user behavior, and external threats. The platform offers automated remediation, utilizing a customizable rules engine tailored to the unique requirements of each SMB. It further delivers robust reporting on user behavior and SaaS events, offering SMBs a comprehensive and real-time view of their SaaS security status. SaaS Alerts is the only solution designed explicitly for the MSP channel, enabling service providers to protect SMBs while unlocking a lucrative revenue stream.
"It's an honor to receive the 2023 MSP Today Product of the Year Award from TMC," said Jim Lippie, CEO of SaaS Alerts. "With the increasing adoption of SaaS applications by SMBs, IT service providers and their customers face significant security risks that mirror those encountered by large enterprises. As the cybersecurity landscape continues to expand and threat actors grow more sophisticated, we continue to invest in developing and innovating our solution to empower service providers to detect external security threats and address previously overlooked internal risks."
The SaaS security platform consists of three key modules allowing MSPs to:
Manage: Efficiently manage end-user behavior by customizing SaaS security event thresholds on multiple applications and instantly alerting of unusual user behavior so they can immediately act on behalf of customers to mitigate or eliminate threats.
Report: Powerful reporting on user behavior and SaaS application events provides a comprehensive, real-time view of the current state of SaaS security to retain existing customers and attract new prospects by demonstrating the tangible value delivered.
Respond: Leverage machine learning pattern detection to immediately lock compromised accounts when a breach occurs, granting MSPs critical response time before malicious actors can inflict further damage.
Building on its award-winning platform, SaaS Alerts has recently unveiled an enhanced product functionality and add-on to the Respond module called Unify. This groundbreaking technology bolsters SaaS application protection and empowers MSPs to meet the growing demand while capitalizing on the shift toward cloud-first applications. Unify offers unparalleled visibility into the substantial security blind spot between cloud-based SaaS applications and end-user devices.
"It gives me great pleasure to honor SaaS Alerts as a 2023 recipient of TMC's MSP Today Product of the Year Award for their innovative SaaS security platform," said Rich Tehrani, CEO of TMC. "Our judges were very impressed not only with the features and value of the solution, but also with SaaS Alerts' channel strategy to expand their market share and provide first-class service to their customers."
For more information on the award winners, see the official announcement on MSP Today.
To discover more about the SaaS security platform, visit https://saasalerts.com/saas-security-platform/ for general product information and https://saasalerts.zendesk.com/hc/en-us to access the SaaS Alerts Knowledge Base.
About SaaS Alerts
SaaS Alerts is the cybersecurity company purpose-built for MSPs to protect and monetize customer core SaaS business applications. SaaS Alerts offers a unified, real-time monitoring platform for MSPs to protect against: data theft, data-at-risk and bad actors and integrates with the most popular SaaS Applications. Learn more at www.saasalerts.com.
About TMC
Through education, industry news, live events and social influence, global buyers rely on TMC's content-driven marketplaces to make purchase decisions and navigate markets. As a result, leading technology vendors turn to TMC for unparalleled branding, thought leadership and lead generation opportunities. Our in-person and online events deliver unmatched visibility and sales prospects for all percipients. Through our custom lead generation programs, we provide clients with an ongoing stream of leads that turn into sales opportunities and build databases. Additionally, we bolster brand reputations with the millions of impressions from display advertising on our news sites and newsletters. Making TMC a 360 degree marketing solution, we offer comprehensive event and road show management services and custom content creation with expertly ghost-crafted blogs, press releases, articles and marketing collateral to help with SEO, branding, and overall marketing efforts. For more information about TMC and to learn how we can help you reach your marketing goals, please visit www.tmcnet.com and follow us on Facebook, LinkedIn and Twitter, @tmcnet .
SaaS Alerts Contact:
Danielle Ostrovsky
Hi-Touch PR
Ostrovsky@Hi-TouchPR.com
TMC Contact:
Michelle Connolly
Senior Marketing Manager
203-852-6800, ext. 170
mconnolly@tmcnet.com